Join Music Director and Conductor Vanja Gjumar Nikolovski and Chandler Symphony Orchestra for its 30th Season at Chandler Center for the Arts. This orchestra of professionally trained musicians volunteer their time and talent to bring the beauty and delight of classical music to the community. 
Seating is on a first come, first served basis. Doors open at 2:30 p.m. Admission is a donation to Chandler Symphony Orchestra.
CHEERS TO YOUTH!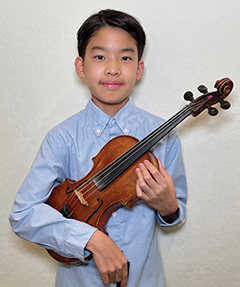 Don't miss this annual concert event that features a concerto played by the first place winner of the CSO's 2022 Youth Competition.
Vanja Gjumar Nikolovski, Conductor
Anton Weber: Der Freischutz Overture
Henryk Wieniawski: Violin Concerto #1 in F-Sharp Minor, featuring soloist Joshua Lee, First Place winner of CSO's 2022 Youth Competition
Georges Bizet: Carmen Suites No. 1 & 2
Pictured Above: Jonathan Okseniuk, First place winner of the 2021 Chandler Symphony Orchestra Youth Competition