News
News
16 great CCA Anywhere performances duked it out in our first-ever March Madness competition, with fans and friends of Chandler Center for the Arts voting every week for their favorite performances. At the end, it was local talent Jácome Flamenco who took home the crown, edging out another AZ favorite, Ballet Etudes! Congratulations, and thank you to all who voted in this year's series.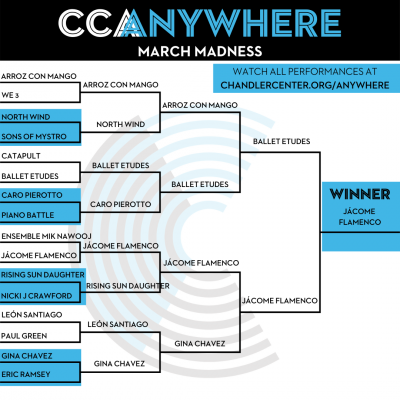 As a reward for us all, please enjoy Jácome Flamenco's production of DUET, filmed on the CCA Main Stage as part of our CCA Anywhere Series. This performance features the exciting thrill of flamenco's intense rhythms while highlighting the intimate nuances that two artists co-create while collaborating on stage. DUET provides a stark contrast from flamenco companies in that the artistic partnership is thrust to the forefront; audiences get to experience how the dancer's movement inspires the guitarist and how the singing, melodies, and rhythms combine to make beautiful artistic flamenco poetry.
For more free CCA Anywhere performances, visit our Online Performances page. 
These free performances are made possible through the generosity of donors. With your help, we can continue our mission to bring arts and culture to all. Donate to Chandler Center for the Arts at give.onecause.com/cca.